Colors in the home are frequently determined by how we perceive aesthetics, as well as how much we like specific colors and styles. You must have visited several homes or lived in various houses or apartments throughout your life. What is certain is that the same interior decoration style has not been replicated anywhere, particularly in the living room.
We all have different preferences, whether we have a contemporary upholstered sofa or a retro dining table in our homes. It is up to us to find not only the pieces of furniture that we like but also the color combinations that we want to use in our homes.
How can we do it in such a way that it is as beautiful to live in as possible? Are there any colors to avoid when decorating living rooms? Is there a universal color or pattern for good interior design?
We're sure you have a lot of questions, especially if you're looking for a place to live right now. If you are in a bind, this article will help you solve it.
1. Neutral base color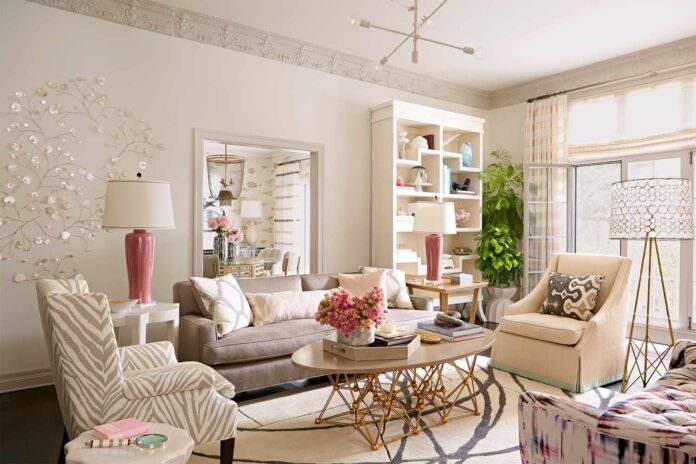 Living room furniture takes center stage, but you should always start with a neutral base. This means you should choose a neutral color for the walls and floors, and even the curtains if you have them. This will allow you to use bold colors for the furniture when you bring it into the room.
Our recommendation is to use light gray, lavender violet, earth tones of blue or green, ivory, light shade of orange, etc.
As a basis, you can take white walls and a classic wooden floor. Put a rug in a neutral color, so now you can design coherent color schemes that match each other.
2. Organic earth tones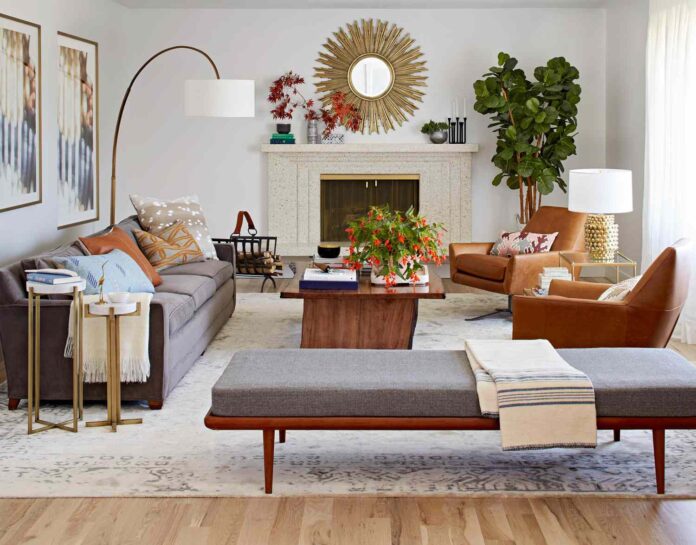 If you decide to use this palette, it includes different shades of brown, combined with modern gray. For example, if you choose gray walls and a gray floor, then you can add brown furniture. Choose warm colors to create a contrast to the gray.
Place a carpet with a light brown shade or with different color blocks. You can choose a patterned rug, but in that case, let it be the centerpiece of the room.
The sofa and armchairs can be in the same or different colors. Use darker shades of brown for them, and choose an organic shade of natural wood for the décor.
3. Mix earth tones with shades of blue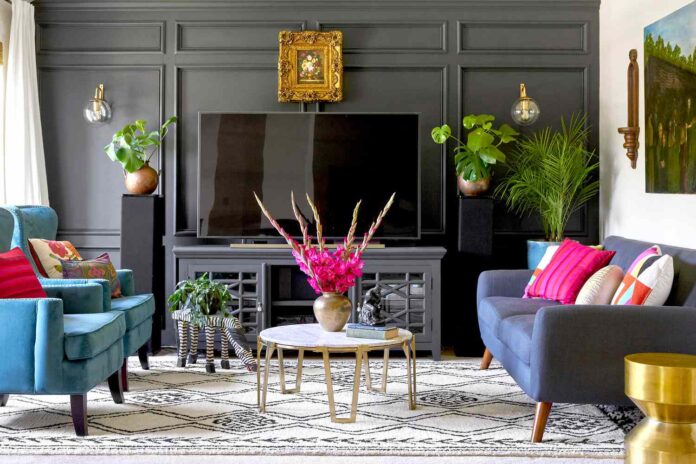 Use the same base with gray and light brown. Keep the brown color on the sofa and armchairs, but add shades of blue to the décor. You can do the same with curtains or couch covers. You can find great rugs that are a blend of these colors.
Of course, the blue color should be in a neutral tone, because that way it is easily combined with the rest of the room.
4. Don't be afraid to use colors from nature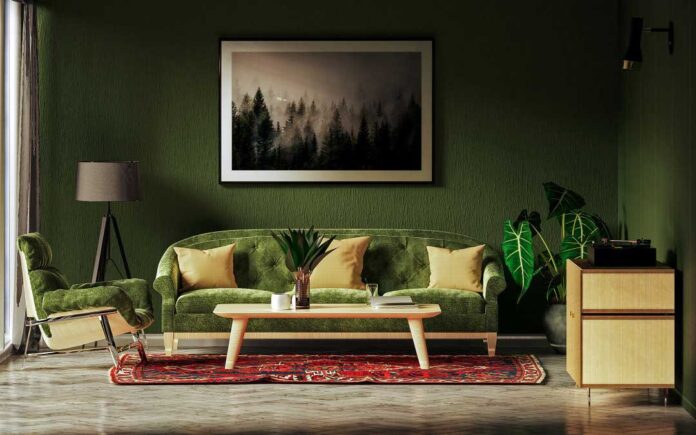 The colors that we see most often in nature are brown, blue, and green. Well, it makes perfect sense that they match each other. Combine them with yellow and white to create a unique look in the home.
For example, keep the walls white and choose a gray sofa. Place pillows in dark green, mustard yellow, and brown. Choose a club table with a dark green color and a brown base.
The carpet can stick to neutral shades of gray or be a combination of green and brown, depending on whether the floor is wooden or tiled.
5. Include the color red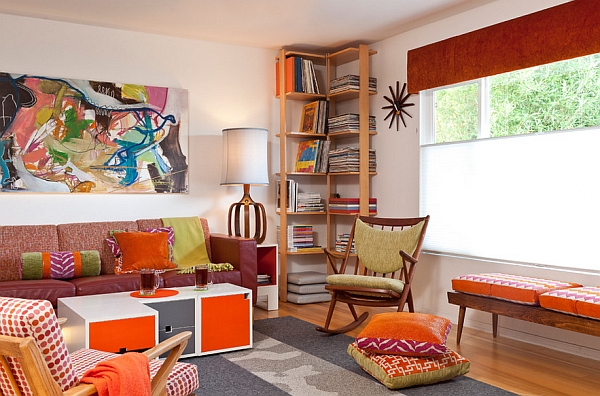 If you want to achieve a bold and retro look, then red can be a great solution for you. In fact, you can combine it with any of the palettes we mentioned earlier. The red color will contrast the compactness of the space and bring dynamism to the interior.
In fact, many prefer details in these colors rather than neutrals, which are almost invisible in common color schemes.
If you decide to add red, let it be details such as pictures on the wall, decorations, flowers, pillows on the sofa, or patterns on the curtain itself.
6. Combine neutrals with intense colors alternately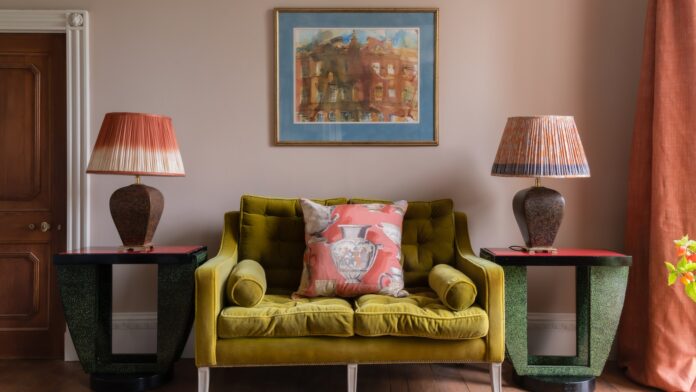 This is a very bold start, but we must emphasize that it works in many cases. For example, if you already have a wooden floor and white walls, instead of a neutral carpet, install green or blue. In a contrast to that, the sofa can be in a light gray color, on which there will be yellow, gray, and green details. And of course, keep alternating the details.
On top of the neutral color, add an intense one, or vice versa.
You can decide that neutral colors occupy most of the room, and create a contrast with intense ones and vice versa.
Combinations that you can use are for example, gray with green, purple and yellow. Another interesting combination is brown, gray, red, and blue, or dark gray, yellow, black, and white.
It's just up to you to find the shades of colors that you like because the basic color variant is not always compatible with interior decoration.
Conclusion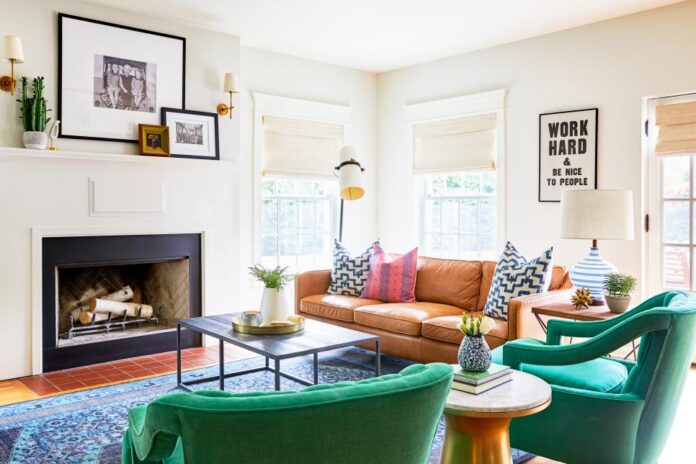 It takes very little to enjoy your home. For example, a little color or design that deviates from the style we are used to is a great choice these days. You can always choose the type of furniture you will use and the color scheme that will fit into your home.
But in the end, the most important thing is that you like what you see. You are the one who will be spending a lot of time in that living room, so it is much more important that you yourself are satisfied with the appearance than waiting for someone else's approval.
We all have favorite colors that we like to use all the time, so there is nothing wrong with combining them in the interior. Who knows, maybe your color palette will create a new trend in interior design and have many fans on social networks. So relax and trust the process. The results will be better than you hoped.