Beadwork involves the use of circular globules that are incorporated into the 3D design. Beads are tiny balls that can be made up of acrylic or glass. They are usually prepared in a mold, and the shape and color can be varied by the manufacturers.
Traditionally beads were used to make a rosary, or they were stitched on cloth for religious or decorative purposes. However, 3D bead art requires more craftsmanship as the tiny beads will have to be inserted into the wire to give a three-dimensional structure.
Some Common Ways To Incorporate Beads Into Your House
1. As Night Lights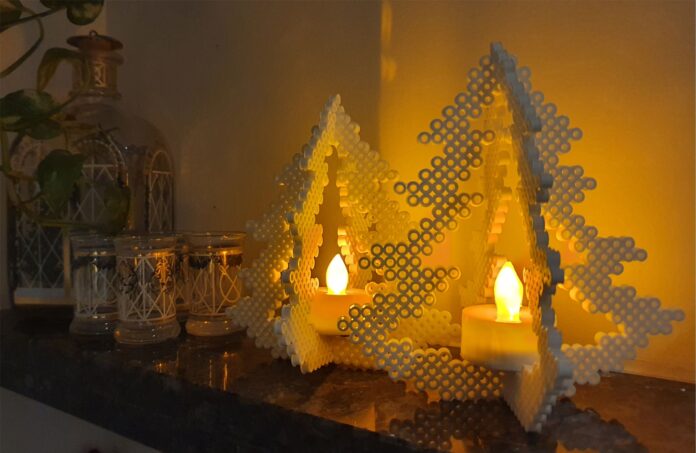 3D bead art that is modeled as a night light is a great new addition to your study or your verandah. They have a signature style and will look great on the verandah. Moreover, beads are quite easy to use, and you can make your own night light with your kid. Learning to use beads, too, to create a three-dimensional model requires a lot of focus and motor skills.
Hence, it can be a great learning experience for you and your kids. Acrylic balls are quite light, and they do not break or crack easily. So they can be easily hung in any place. Beads are also available in various colors and shapes, so you can get a lamp of any shape and design that you want.
2. Get A Wall Hanging Or A Local Charm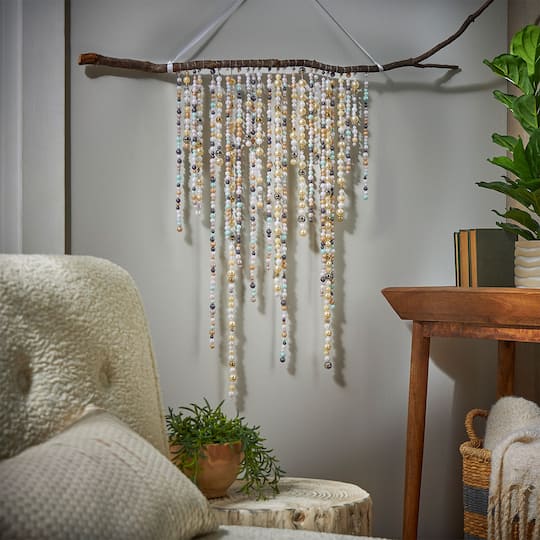 In native America, animal claws, shells, and bones have been used as magic charms since the early part of the early seventeenth century. With time glass globules were incorporated into those designs. In fact, the earliest three-dimensional designs were created by tribes which would make the thread so taut that it would get raised, creating a three-dimensional design.
Some places also use beeswax to seal the beads instead of using a string or wire. Ancient beadwork in African countries like Ghana used powdered glass to make the beads. Thus, if you want a fancy glass good luck charm as a decorative item on your center table, you can get a beautiful piece of bead artwork.
Many people believe that they give a positive vibe to the house and drive away negative energies. Alternatively, if you want a decorative Item in your drawing room that looks like an ancient African charm, then you can get something that uses claws along with powdered glass beads.
Glass is heavier and more fragile than acrylic. But glass has several advantages over plastic, and hence they are preferred as decorative items. Firstly, glass items are more environmentally friendly as compared to plastics. This is because glass can be crushed and recycled almost entirely at the end of its lifecycle.
Thus, glass leaves very little as a waste product. On the other hand, plastics take several years to decompose, and hence they generate a lot of waste. Also, one of the primary reasons for using glass over acrylic is that it looks elegant, classy, and shiny as a decorative item.
3. Using As A Windchime Near A Window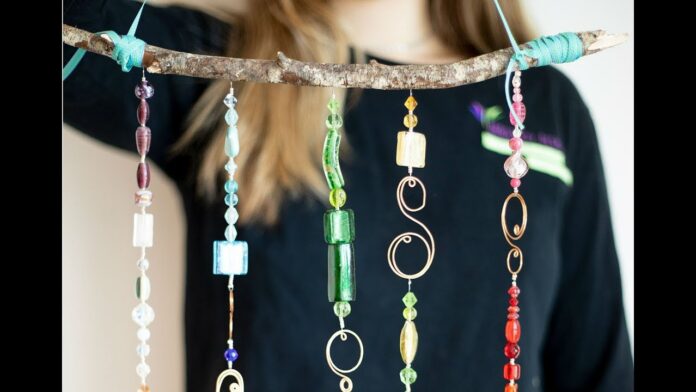 A windchime is a decorative item that has metals or crystals attached in such a way that they produce a soft sound when shaken by a gust of wind. The sound produced by wind chimes is considered auspicious in many places. So you can use a wall hanging that has stringed glass beads attached to it that can be used as a wind chime if you tie it near a window.
When tiny glass beads collide against each other, they produce a sound that is similar to that produced by a wind chime, and this can bring a positive aura to your entire house.
4. Beautiful Floral Arrangements For The Drawing Room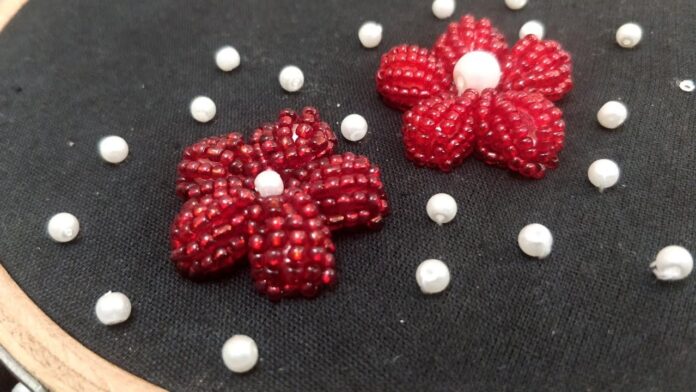 Many people place flowers in their drawing room as they give out a sweet fragrance and also look great. However, getting fresh flowers on a regular basis is difficult and also expensive. So if you want an alternative to fresh flowers, you can use either plastic flowers or beaded floral arrangements.
Most people find plastic flowers cheap, and they cannot be cleaned with a wet cloth in case of dust deposition. But beaded floral arrangements are different, and they do not look cheap.
They are easy to maintain as they can be easily cleaned by using a piece of wet cloth. Moreover, they are cost-effective as they do not need to be replaced regularly like fresh flowers.
5. Small Decorative Show Pieces That Can Be Placed In Any Room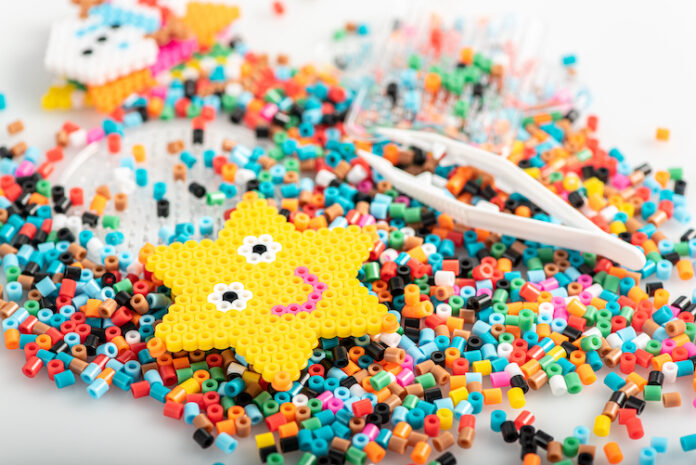 Small decorative show pieces that are made up of beads can be placed anywhere in your house. If you think a small animal figure looks great against the wall of your bedroom, then you can place it on the side table of your bed so that it is against the wall.
Apart from animal figures, you can get beaded models that resemble a fruit or vegetable, or alphabet. These can be great for decorating your child's study room. They look good, and your child can also learn with these models.
6. Some Jewelry Boxes For The Dressing Table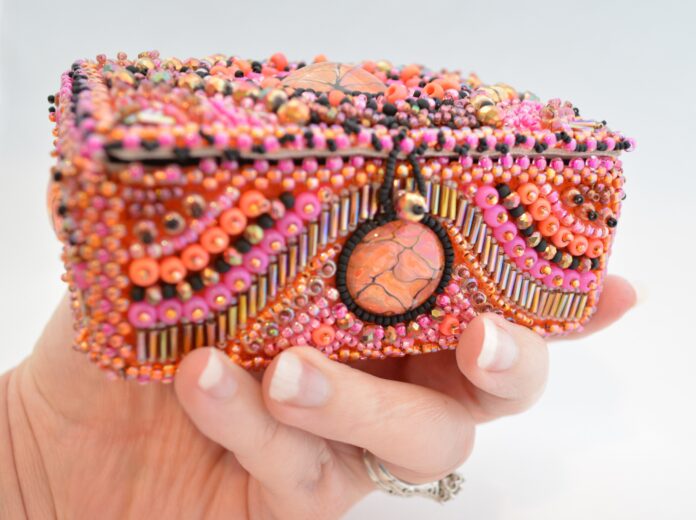 Three-dimensional beaded jewelry boxes are a great addition to your dressing table. You can get tiny boxes to keep small earrings, or you can get big bangle boxes for placing your bangles and bracelets.
These boxes not only look nice on your dressing table, but they are also a great way to organize your room. So instead of keeping your jewelry all over your dressing table, you could keep it in a jewelry box that keeps everything organized and tidy.
Conclusion
Using 3D bead artwork is a great way to decorate your house. These art pieces are easy to clean; they are good for the environment if they are made of glass and look beautiful. They can be used as wall hangings, tiny decorative showpieces, lamps, windchimes, jewelry boxes, and a lot more. Moreover, it is possible to make these pieces yourself and unleash your creativity in you.