People who are fond of preserving antiques value the make, the material, the history, etc., associated with the antique product. When it comes to furniture, conservators are very particular about protecting the original material (wood or upholstery) as it is. Many people also worry that the restoration process may damage the integrity of the furniture.
However, that is not always the case. At times restorations help prevent further deterioration of the product. Moreover, if you get the right restoration hardware, you should be able to protect and properly restore your unique, antique furniture.
Some Things You Must Know Before You Start Restoring Your First Antique Furniture
Restoring an antique is quite a challenge, especially for beginners. So if you have antique furniture and you do not want to spend a lot on hiring an expert, continue to read this article for some quick tips for first-time restorers.
Spend A Good Amount Of Time In Research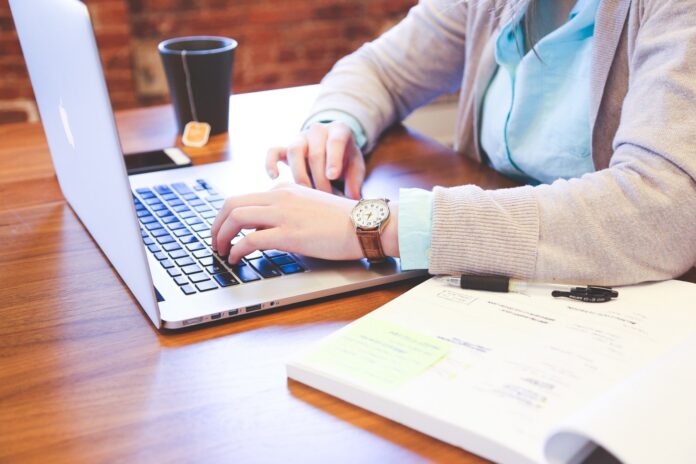 If you wish to restore your furniture without causing damage to it, you will have to read a lot about that piece of furniture. It is vital to have complete knowledge before you lay your hands on the furniture.
Most antiques are made up of wood. The type of wood depends upon the era to which that particular piece belongs.
So if the piece of furniture that you are dealing with belongs to the seventeenth century, the main body may be made up of wood from an oak or a walnut plant. However, if the particular piece that you wish to restore belongs to the eighteenth century, then the main body is most likely made up of mahogany wood.
There are two ways in which you can figure out the type of wood. First, you can take the help of a conservation expert. However, getting in touch with such experts is quite a challenge, so you may try to gauge the type of wood by looking at the shade pattern.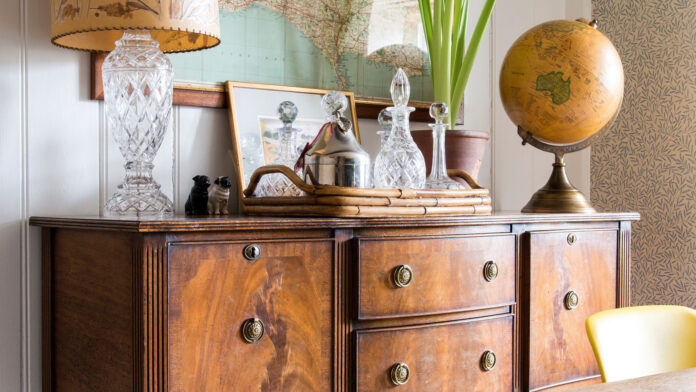 So if the color is light beige, then it is probably oak wood. However, if the wood is whitish with greenish streaks in it, then it is probably made up of poplar. Mahogany wood has a slight pinkish tinge to it.
After finding out about the basic raw materials, find out about the way in which the piece was produced. Some furniture pieces are homemade, and they are made by amateurs. These may not have a lot of finesse and artistry associated with them. However, they are the most difficult to restore because each homemade piece is unique in itself, and there is no definite pattern like those found in classical pieces.
Cleaning The Antique Furniture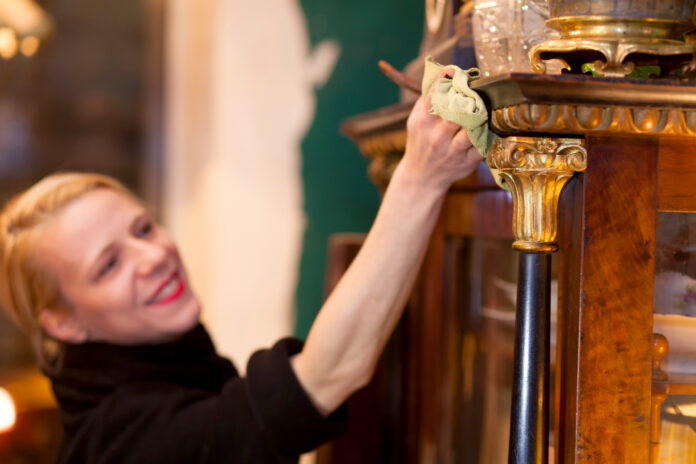 Cleaning any piece of furniture can be broadly divided into two parts. It involves cleaning the upholstery and cleaning the wooden body. For cleaning the upholstery, usually, a strong vacuum cleaner is used to suck out all the dirt and dust. However, if the upholstery has stains, you may need to take the help of an expert conservator, or you may damage the upholstery.
Usually, if the stuffing within the upholstery is damaged, they are replaced by modern plastics(foams). These preserve the look of the chairs and sofas, yet people may not be able to use the furniture for daily use after such replacements.
For cleaning the wooden parts like the legs and the side handles, use mild detergent and warm water. Always be careful not to use any harsh abrasive to scrape off any dirt. Any harsh abrasive may spoil the integrity of the wood forever, and hence they are best avoided altogether.
Repair The Scratches And Crevices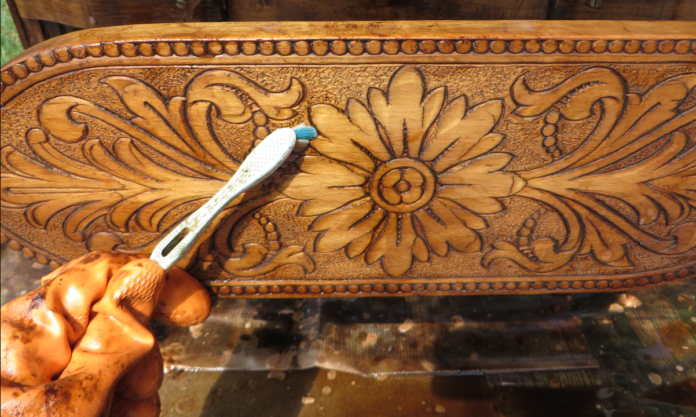 Once you have done the basic cleaning, you will be able to see the scratches and the crevices better. At times you may need to remove the finish using an abrasive material like sandpaper to discover any holes or crevices that may lie underneath.
If any part needs replacement, you must replace it with a part that is as close to the originals as possible.
If there is a tear in the upholstery, a neat sewing job may be able to prevent any further damage. If there is chipping, slight repairs and fillings can do the job. However, if there are deep cracks, you may need expert help.
All through the repair stage, you must keep some points in mind. You must replace as little as possible. Even if you try your best to get good supplies and replacement material that is very close to the original, you cannot get the original material. The original material makes the antique precious, so the restoration process should include as little replacement as possible.
Be Cautious About Protecting Yourself During The Restoration Process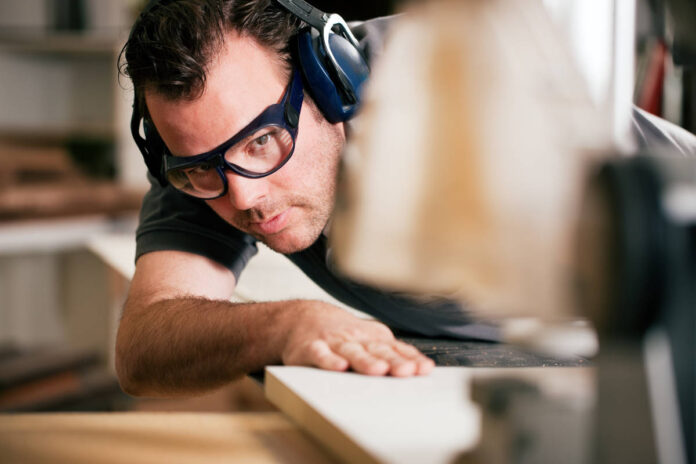 Most expert restorers know that antique pieces of furniture may contain paints that have lead in them, so they protect themselves against such paints. But as a beginner, you may not be aware that paints that contain lead are harmful to your health, and you must avoid coming in direct contact with such paints at all costs.
Lead has an adverse effect on the nervous system, especially in children and young adults. It is a heavy metal that is also known to cause damage to the kidneys in adults.
You must also protect your eyes from wood shaving and chipping when you are removing the finish of the antique furniture. It is better to use protective google, face mask, and gloves to protect yourself from any injury during the restoration process.
Conclusion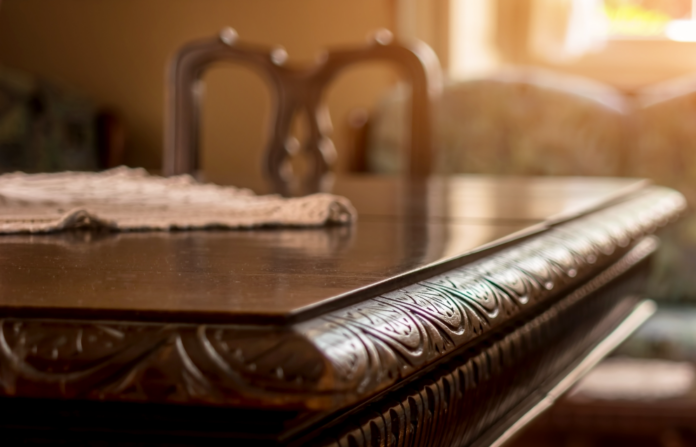 Restoring an old piece of furniture is a tough job. If you want the restoration to be perfect, you must get the supplies, like the screws, the fabrics, etc., from a reputable store. Also, as a beginner, you might need help at many stages during the restoration process.
So do not shy away from taking help, as protecting an antique and retaining its originality is essential. Once you have completed a few projects on your own, you will feel more confident and will be able to handle restoration completely on your own.