Scandinavian design is one of the most loved and used interior and exterior design philosophies out there. The reason behind this is its simplicity, beauty, expression of natural colours and materials and functionality without any sacrifices.
Thanks to this philosophy and thanks to the minimalist yet so beautiful designs, the Scandinavian way of designing your home, or parts of it took us by surprise. It was famous and utilized before as well, but as of a few years back, all of us have jumped on board this and started to revolve our homes or living spaces around this.
When you think about it, why wouldn't we?! The mix of nature and its colours, materials and vibrancy, the minimalist approach with maximum functionality and comfort make the Scandinavian design very appealing. The quality of materials and the higher meaning and inner peace it brings in are worth so much more than you could describe. Because of this and many other reasons we decided to show off some of the best bedroom designs inspired by Scandinavian design philosophy. We hope you will like it and we hope that you will utilize at least something out of this article when you decide to redecorate your home next time.
1. Walls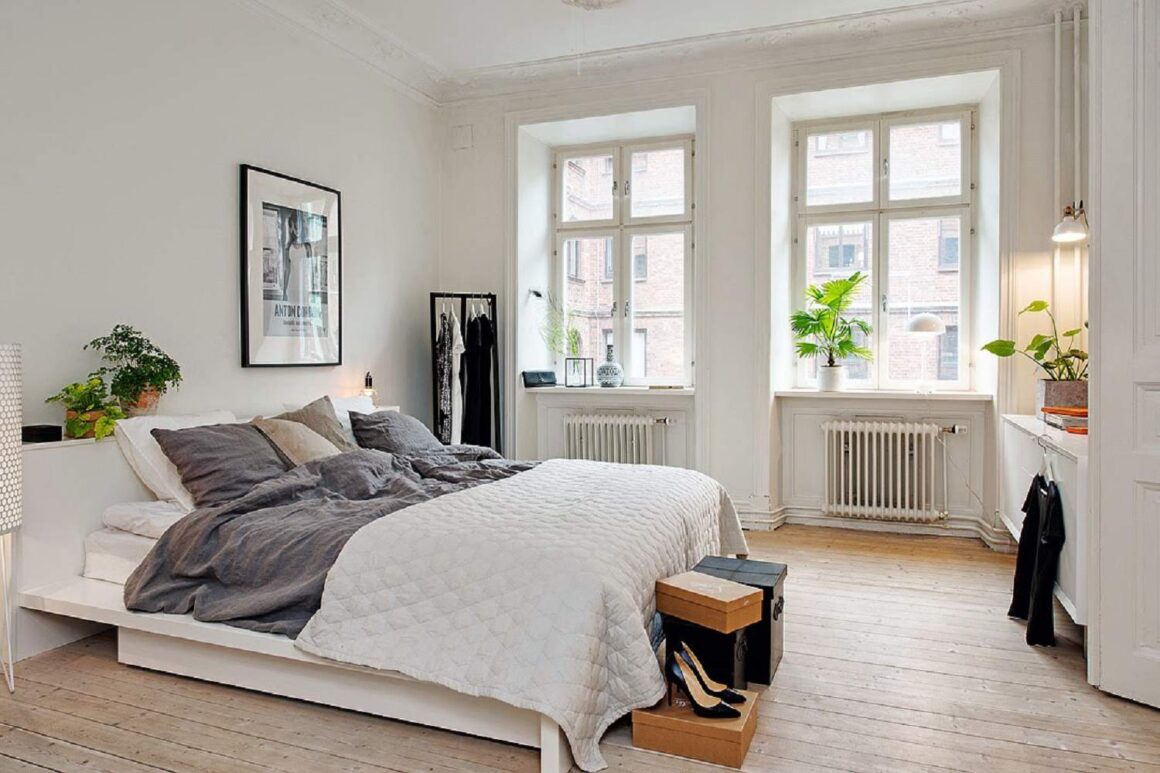 As you already know the colours of walls in this design philosophy are mostly bright. The reason behind that is the fact that in Nordic countries the sun is scarce and with brighter surfaces, you invite as much of the sun and natural light in as possible as well as the heat that it brings. This is the two-way benefit and this is the main reason that you will see mostly white, light grey colours on the walls done this way.
The idea is to utilize these combinations and although it might seem a bit cold the bedrooms done in a Scandinavian style are rather warm and cosy. You can add so much more to this to make it as cosy as you like, but when you do it you will see that this minimalism thing works and that nothing more is needed.
2. Decorations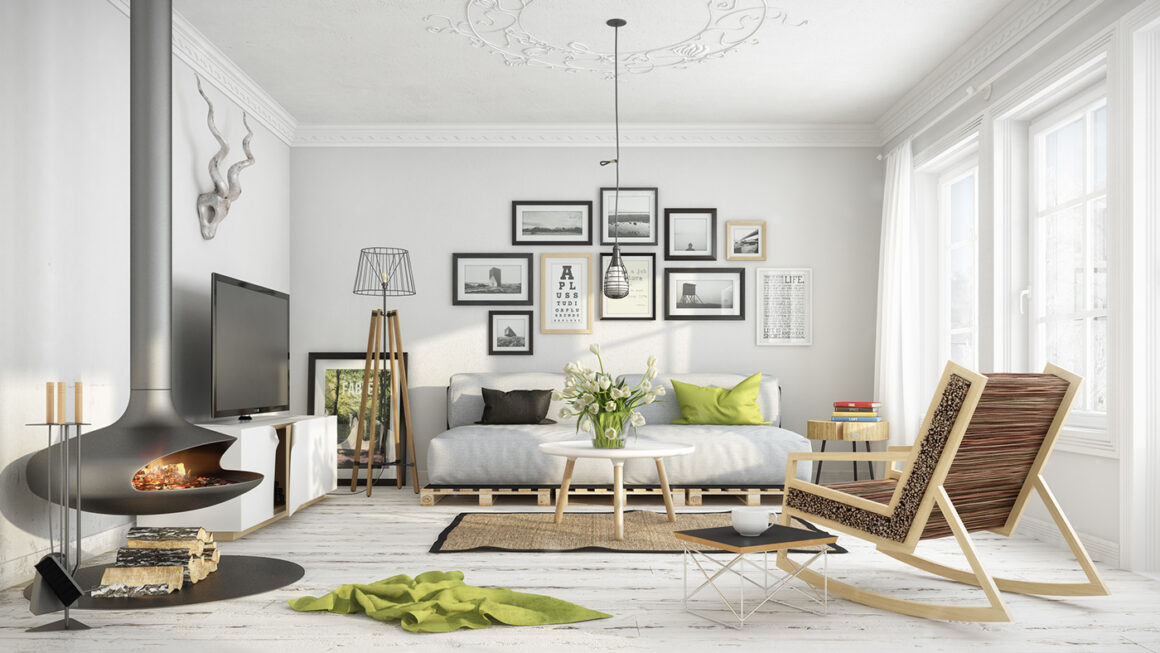 Decorations play a huge role in this design style and these are the things that add warmth and round up everything in a neat little natural cocoon. You can opt for Scandinavian pendant lamps, candles dressers, plants, vases anything that is needed to round up the room you are decorating. Thanks to the utilization of natural materials and colours in this case wooden patterns, colours and accessories add to the effect of that serenity while also softening the "cold" of the walls and the overall feel of the space.
What we see a lot lately is the utilization of wicker baskets, wooden boards behind the headrests of the bed and so much more, as a unique way of enhancing the feel of Nordic style. One more thing, we mentioned already, are the plants that are also crucial to this style of décor. Green plants are a must in almost every room and they can be seen in almost every image showcasing this.
3. Bed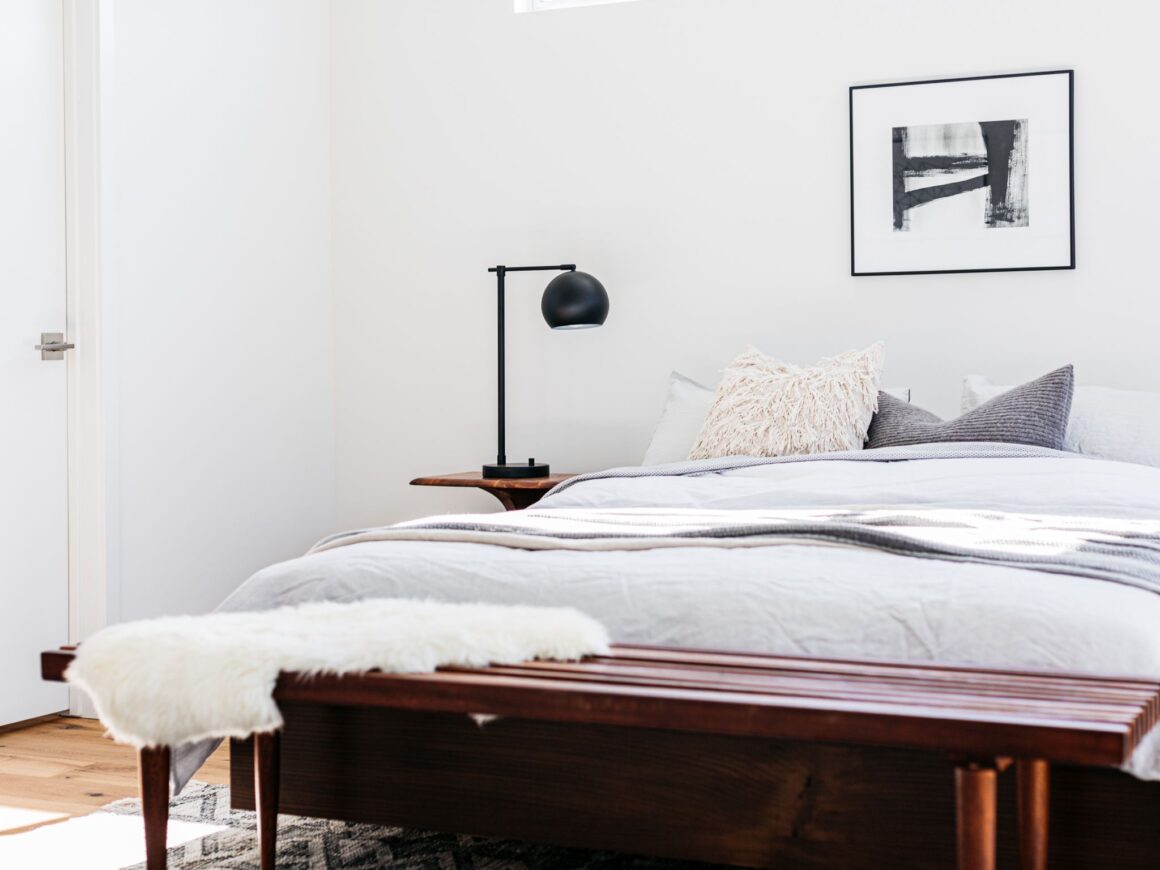 Since we are discussing the bedroom it would be ridiculous not to have a bed there. The size of the bed is totally up to you, but if you want this to be done in a Scandinavian style, we suggest that you opt for the minimalist kind of bed frame possible. You will see a lot of beds that advocate Nordic style with bulky wooden frames but this is just not it. You need something simple and natural, something that serves the purpose of allowing you comfortable sleep without having to look like it was made out of a thick piece of lumber.
A minimalist bed or bedframe with simple or no headrest is totally fine. Those without headrests can be leaned against a wall where you already set those wooden boards or planks that can double as the headrest, while neatly incorporating in the entire picture. Bed frames can be out of lighter or slightly darker wood colours, as long as they seem natural.
Other stuff
Now, not all of us need or like the same things in our bedroom so this next piece of advice is made according to that. Some of you will need big storage space in your bedroom, whether in a form of an armoire or a shelf or shelves. These are also made in this style and you can opt for an open style armoire with a wooden pattern or material that is like wood but coloured in bright colours. You can have open-style shelves that can be used for storage or you can use them for books, accessories, framed posters and anything in between.
Some of you need a space to work in and you will need a desk for your work. Simple desks with steel construction based out of four legs and a tabletop not died but protected in a way that its natural colour comes to the fore is always a good answer. If you like a reading space in your bedroom you can always opt for a small comfy minimalist chair, stools, tall standing mirror in one of the corners of the room you can call yours and feel comfy in.
When all of these things are considered you have multiple choices at your disposal. You can go bold and do a monochromatic bedroom where you will put dark grey walls, a comfy bed, some chairs or stools and a couple of shelves. You can go a bit darker than that and do dark grey walls or almost black even and with a bigger white bed, black cabinets or bedside tables and a big pendant like lamp or chandelier with a very bright bulb/s. you have everything you need at your disposal and all of what we wrote can be utilized to set a certain style. 
The most important thing to remember is that you need some contrast in this design style and after all the wood, whites, greys and plants you need something like rugs, pillows and other similar small things with some puffs of colour to round everything up. When you assemble everything you will see in which area it feels a bit "colder" and there is where you add some colours and liveliness.